The best features gathered for your most demanding projects
Click on a link or scan a QR-Code to connect to our control room and chat with a director.
Whether it's the main camera or a second angle, your own access or that of your guests.
* For Smartphone and computer
We take care of the settings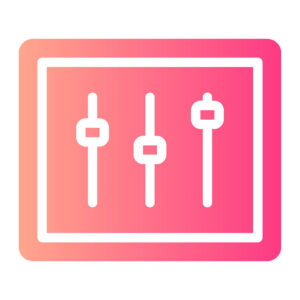 Selection of the right audio device, choice of codecs, video bit rate, capture format, frame rate, white balance, aperture, exposure, focus, zoom…. (varies depending on the model and connection mode) are managed by our technicians.
This way, as well as making sure you have the right setting, you also have the maximum comfort to focus exclusively on your speaking performance.
The management of several cameras allows the simultaneous recording of participants on different sites and makes the rendering of sequences more dynamic.
Each camera is managed individually in terms of its settings and synchronized with the other devices (recording, upload, prompter…).
An indispensable tool for any speaker who wants to have control over his speech, to benefit from a maximum of fluidity and naturalness in his exercise.
A fast and fully remote control by the shooting operator (speed, font size, transparency, pauses… and also last minute corrections 😉
For added security, recordings are made both live on our servers and locally on each device.
Thus, possible connection problems do not interfere with the recording quality of the sources used for editing.

Instantly view each shot to make sure of the result and decide whether to validate or retake.
This live exchange with the director avoids unpleasant surprises and allows him to take note of your editing instructions.
Each audio and video stream can be routed between the different devices, regardless ofyour role in the project (animator, cameraman, translator), regardless of the equipment used (headphones, headset or stage monitor) ,
This allows for dialogue with the director, as well as more complex interconnections such as interviews with simultaneous translation.
The local broadcast mode turns any display into a control screen.
Operating on a stand-alone device connected to a monitor or a video projector, or via a PC, to benefit from on-site video feedback.